1
« on: November 27, 2017, 09:00:06 PM »
Body:
Baxter Stockman -
for that nebbish appeal and rat-minded intellect.
Item I:
Uncle Scrooge's money bin -
that's just good exercise, really.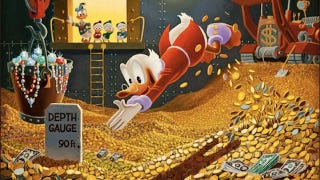 Item II:
Tomorrow's headlines -
destined to become a hero with just a little push, Gary Hobson never did get his morning paper on Earth 616. An unseen hand has seen fit to misplace it every single morning. Not that it matters, really - it would take a true adept to gleam useful information from MSM news.
Bernie Bernstein
doesn't so much fight the JLA as run them somewhat clumsily from the shadows. When in doubt, he'll often try to either change the subject or bribe whomever is in front of him, saying things like "boy, these pretzels are making me thirsty. Have some pretzles, Batman. I don't want them anymore." J'onn J'onnz in particular is known to grudgingly accept his blood bagels. Batman's never really picked up on the subtext.
I'm assuming pretzels are low-key enough to sneak under the table here. We can just switch those in for the money bin, if necessary.